Every time you will enter this page, we will show you a new species of a Chilean plant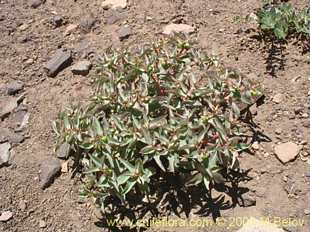 Photograph of Euphorbia #1028
See full record of this plant...
Buy seeds of similar plants...
LATEST NEWS 2023
Important Information about our Seeds Supply...
During the last three years our ability to do provide seeds was heavily curtailed by Covid epidemics, because Chile, being a responsible country, implemented movement restrictions. Also, shipping channels were also heavily affected.
We also often did not provide the best client service, to tell the truth, so that often emails were not answered in a timely manner, and our shipping was reduced to one per month.
It is only now from this year that the situation is finally improving, and we decided to resume our activities related to Chilean flora and seeds.
Notably we have collected already about 150 species, and we plan to continue to collect more later during the season.
We also have not changed our prices during the last 16 years. The inflation made enormous strides during this time.
Shortly, from 25th of December 2022, we will raise the prices for our seeds; we had three prices (4 USD, 7 USD, 12 USD per packet, depending on species).
Freshly collected seeds (those seeds collected after October 2022) will be now priced at 5 USD or 8 USD per packet, and we will eliminate the 12 USD packets (instead those rare seeds will be sold with fewer seeds).
So just by seeing the price you will be able to tell if the seeds are from very recent collection.
We also plan to update our webpage, to correct some mistakes related to identification of plants, and increase the number of Chilean species by about 10 %.
Some Information about our Website...
To tell the truth, we have not done much for the development of our website for a long time, it was there, just sitting...
Despite that we were surprised to see a consistent traffic increase througout the years, and now we have close to 15.000 visitors per day, or 5.000.000 visitors per year, that is enormous traffic for a botany website.
Compared to 5 and 10 years ago, that is an increase of about 22% and 35 % respectively.
This shows that there is a growing interest in Chilean flora in the world, and we feel that we are obliged to do some improvements to our website, since chileflora is one of the most important websites dedicated to Chilean botany in terms of its reach in the world. Obviously, there are very specialized websites which have more scientific approach, but they are very limited in their scope.
Also, it is interesting to note that only 12-15 % of traffic comes from Chile.
Also, we will publish shortly some articles on Chilean flora; the first one will be about four new locations of Austrocactus philippi, which would increase the known locations from 3 to 7, and extend its habitat range by almost 100 km.