INTRODUCTION
This is a high mountain beautiful Alstroemeria. It is rather low, but has huge flowers, either pink or whitish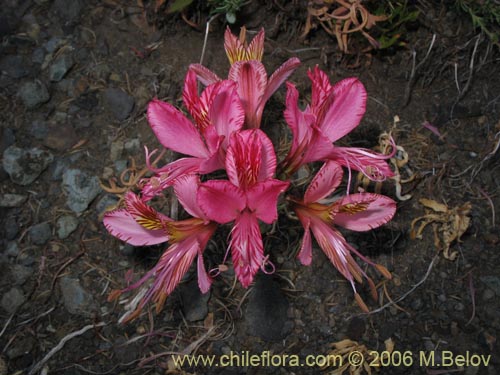 Image of Alstroemeria exerens
VII Region, Reserva Nacional Altos del Lircay, Chile
Altitude: 1400-2200 m. 01 18, 2006
DESCRIPTION
Plant type: Perennial

Flower: Red, 6 petals

Height: 35 cm.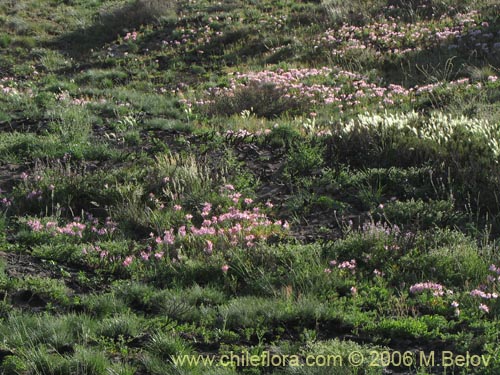 Image of Alstroemeria exerens
VII Region, Camino a Laguna Maule, Chile
Altitude: 1350-2100 m. 02 02, 2006
HABITAT
In Chile this species grows in the following environmental conditions:
Habitat according to altitude:
High altitude close to the timber line

Watering conditions:
Humid areas, with almost constant rainfall. Short dry periods are possible (generally not longer than 1 month).

Light conditions:
Some shadow. Some protection against direct sunlight, some shadow from vegetation, filtering about 20 - 40 % of light.

Image of Alstroemeria exerens
VII Region, Laguna Maule, Chile
Altitude: 900-2100 m. 05 13, 2006
USES
Excellent ornamental value (A +)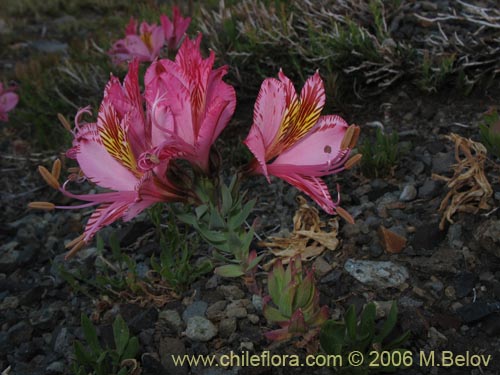 Image of Alstroemeria exerens
VII Region, Reserva Nacional Altos del Lircay, Chile
Altitude: 1400-2200 m. 01 18, 2006
GROWING TIPS
This species has the following hardiness:
USDA Hardiness Zone 7, even 6b. The plant tolerates low temperatures (-15° C even -20° C), it can be covered by snow for months (1 - 8 months).

The easiest form to germinate this species is to plant it in autumn and expose the seeds to natural temperature fluctuations. If you decide to do it "scientifically," soak the seeds for a day or so in water, then put them into wet sand and put them into refrigerator at about +2 +5º C for about 30 days. Allow the seeds to breathe (ventilate from time to time) and check the humidity of the sand (it tends to dry out quickly, so adding moisture every three-four days is a must). Then take them out and plant at room temperatures. If not all seeds or few seeds germinate, repeat the cold step once more. This plant needs good drainage and relatively poor soil.
If you are interested in purchasing seeds of this or similar species, please go to our On-line Seeds Shop.