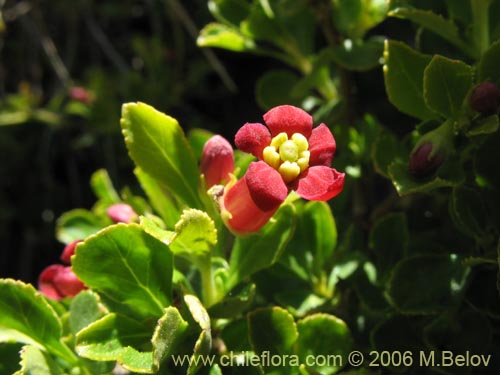 Image of Escallonia rubra
VII Region, Reserva Nacional Radal Siete Tazas, Chile
Altitude: 1200-2300 m. 12 25, 2005
New Forum opened! Ask questions about this plant!
Species:
Escallonia rubra (Ruiz & Pav.) Pers.
Family:
Escalloniaceae
Order:
Rosales
Chilean Name:
Siete camisas colorado , Đipa , Yang- yang
English Name:
German Name:
Russian Name:
| | |
| --- | --- |
| Record: | 0032 |
| | About 30 Escallonia in Chile and 6 in our data base. |
| | About 32 Escalloniaceae in Chile and 6 in our data base. |
Native Frequent

Height: 2 m.

Excellent ornamental value (A +)
INTRODUCTION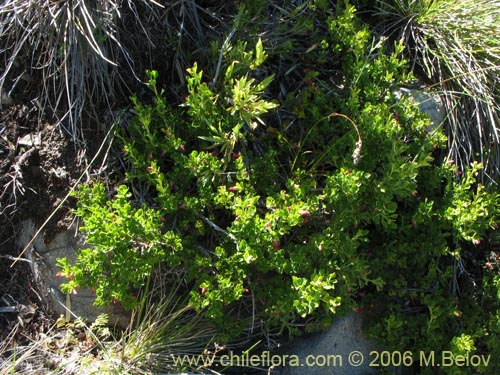 Image of Escallonia rubra
VII Region, Reserva Nacional Radal Siete Tazas, Chile
Altitude: 1200-2300 m. 12 25, 2005
DESCRIPTION
Plant type: Shrub

Flower: Red, 5 petals

Height: 2 m.
HABITAT
In Chile this species grows in the following environmental conditions:
Habitat according to altitude:
High altitude close to the timber line
Medium altitude up to the timber line

Watering conditions:
Humid areas, with almost constant rainfall. Short dry periods are possible (generally not longer than 1 month).

Light conditions:
Fully exposed to the sun. Level areas or slopes facing north.
Some shadow. Some protection against direct sunlight, some shadow from vegetation, filtering about 20 - 40 % of light.

USES
Excellent ornamental value (A +)
Useful properties:
Medicinal

GROWING TIPS
This species has the following hardiness:
USDA Hardiness Zone 7, even 6b. The plant tolerates low temperatures (-15░ C even -20░ C), it can be covered by snow for months (1 - 8 months).

Low germination, less than 30 %

If you are interested in purchasing seeds of this or similar species, please go to our On-line Seeds Shop.